VIBRANT EXPANSION - WEEK 9 PROGRESS
Once again it is Sunday and we have had a great week at our new brewery site at Hardley. The major developments have been:
Our 3 new brewing vessels have arrived to plan

Our taproom has a nice new floor

Cooling pipework within the brewery is nearing completion
There is no doubt that the focus this week has been on the delivery of our new brewing vessels……
On Friday we took delivery of 2 new fermenters and a new hot liquor tank (HLT) from our supplier in Burton-on-Trent. The fermenters had actually been built back in late 2017 but because we were seeking new premises at that point we saw no logic to installing them at our current site in Lymington to only have to move them once new premises was found. Also, we would have to take our mezzanine floor down to squeeze them in as they are rather tall!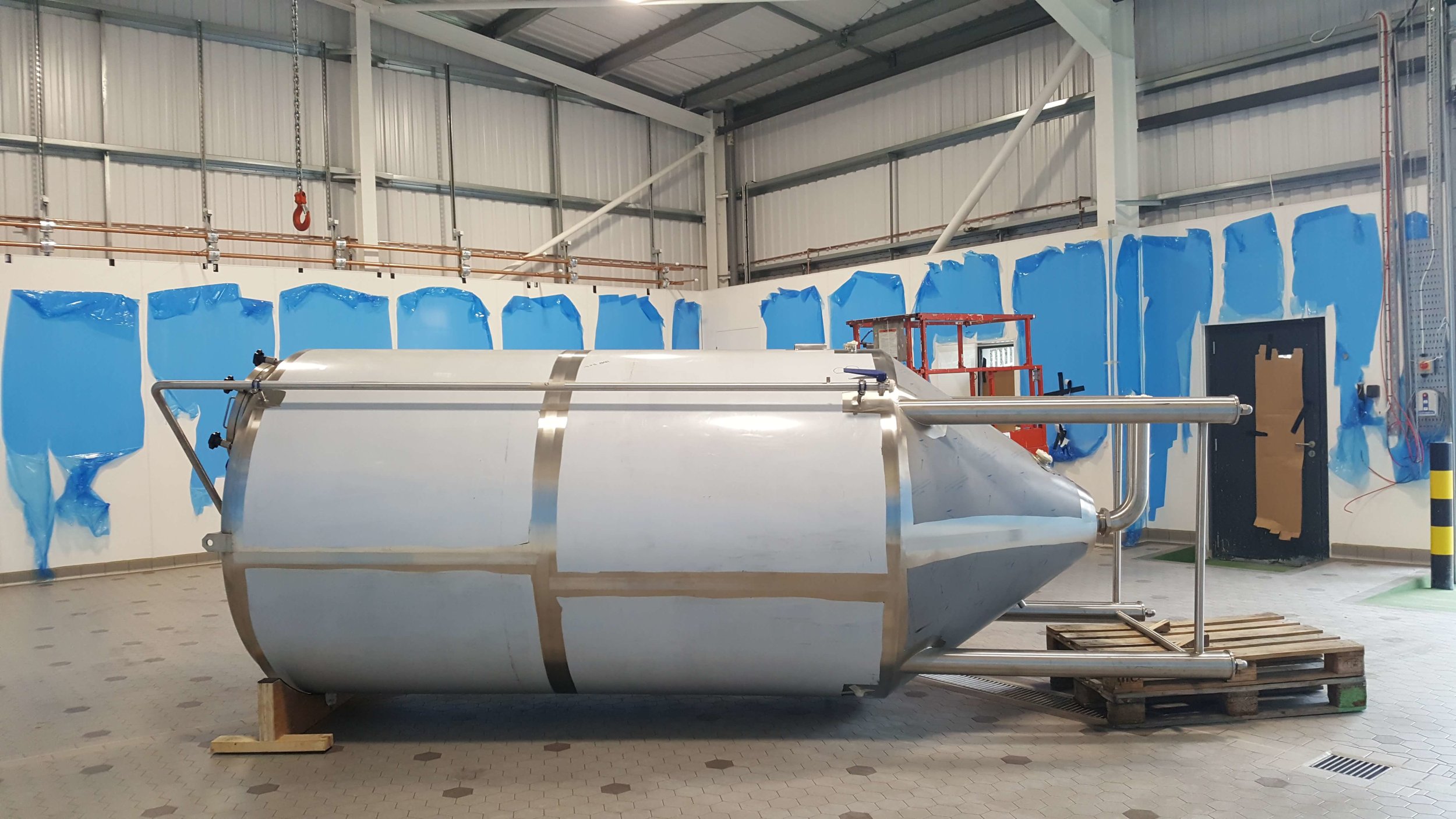 The new fermenters have a capacity of about 6000 litres each which is very large for a small brewery like ourselves. Due to the size of our brew kit, we can only make up to 2000 litres of beer in a 7/8 hour day so we will have to brew 3 times to fill each fermenter. We have been double brewing in to our 4000 litre fermenters for some time now so this is just another step up. Our most popular beers will likely be brewed in to these tanks, such as Summerlands and Pupa. It is exciting to think of 6000 litres of Black Oktober but it would be a hard sell!
To say it was some effort to get these 3 vast tanks off the lorry and position in to place in the brewery is probably an understatement! The vessels each weigh about 2.2 tonnes so we had to borrow a more hefty fork lift truck from our landlord over the road as our fork lift will only lift up to 1.5 tonnes. Once unloaded we had the task of trying to move them in to the brewery still in their horizontal position and then get them upright (they are all too tall to get through the door when upright). Previously the installation has been done for us but it was not possible this time so we had to do it ourselves, somehow. Our head brewer, Bruce, likes challenges like this so he was in charge of this little task and I am pleased to say he did a grand job (as all 3 vessels are now upright and nothing was annihilated in the process! A big thanks to those staff that helped out with this.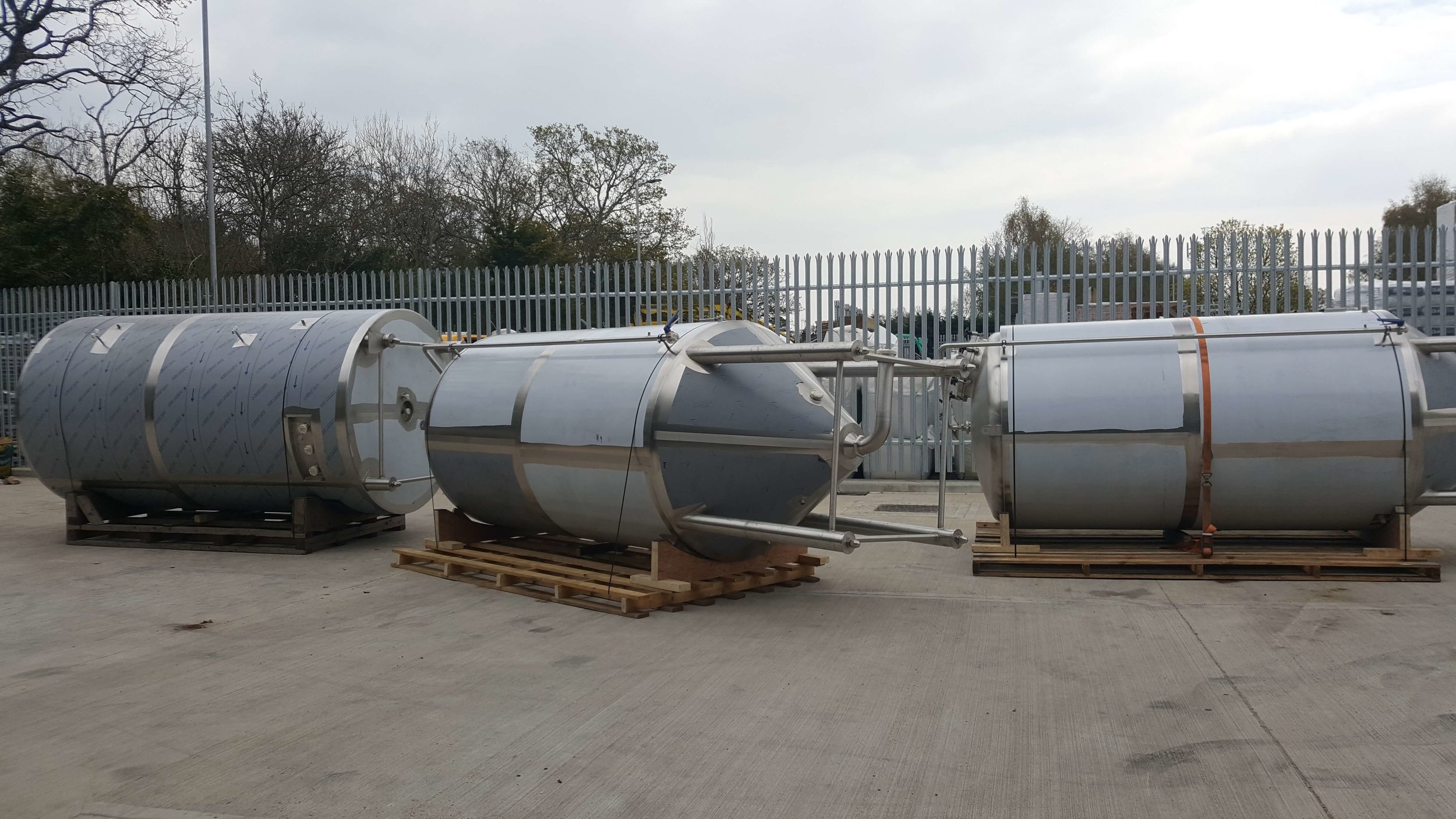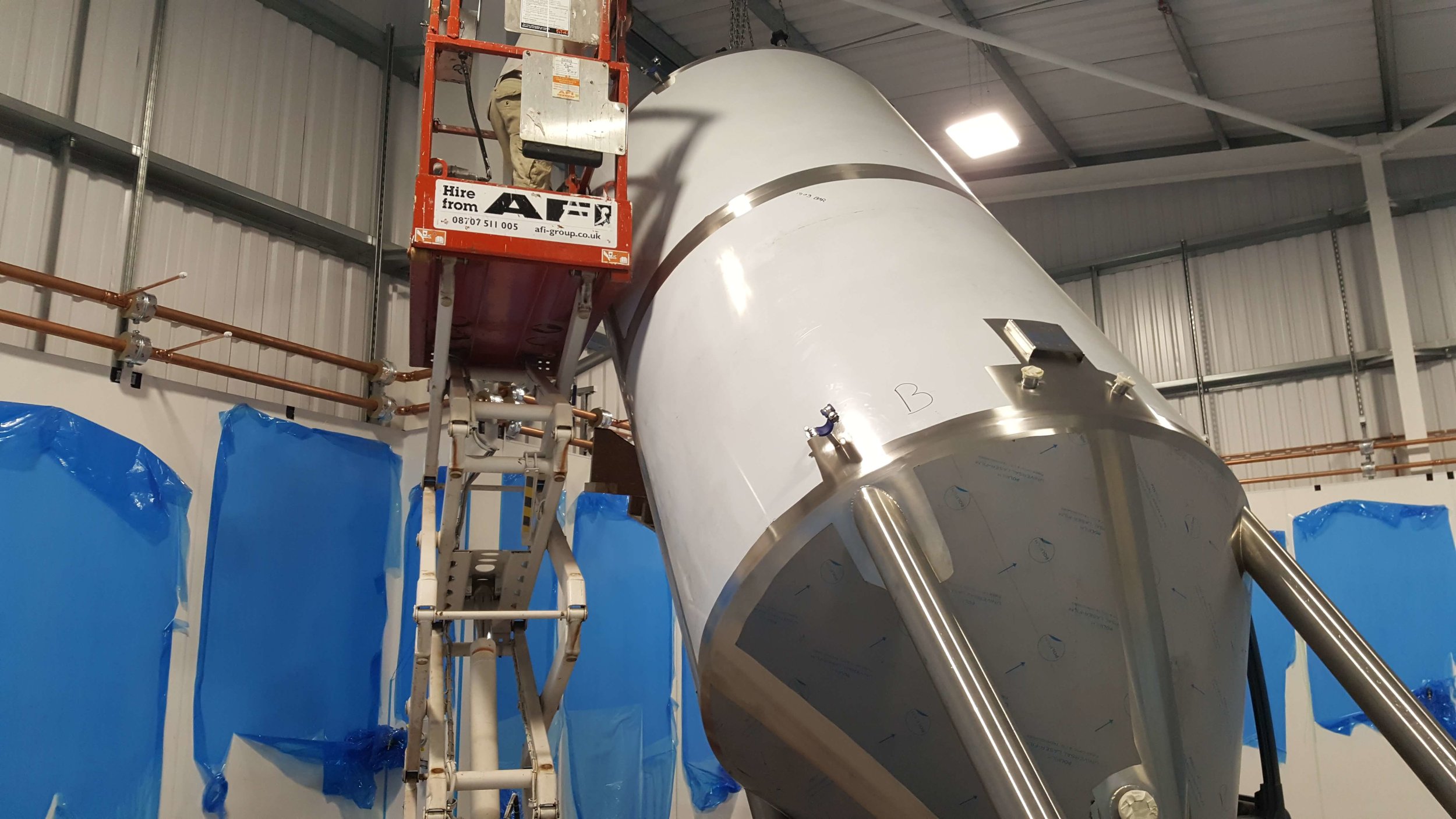 The new HLT holds 8000 litres of water (our old one had a capacity of 2600 litres) which will enable us to more easily triple brew in to the new fermenters. We plan to convert our old HLT in to a cold liquor tank at some point in the future
We hope to have the new fermenters connected to the new cooling pipework within the next week or so. We will have to do the same with our current fermenters in Lymington once we move them over in the coming months as well.
We now have a nice new epoxy painted floor in our taproom. The previous floor finish was just sealed concrete which was more than functional but it looked a bit naff so we took the opportunity to give the room a lift. This was more unplanned expenditure but hopefully worth it. Don't go spilling your pint when we open,right?!
Our cooling pipework is looking good and most of it is done now. It will still be some weeks before it is completed but we have the basics in place. It will need to be connected up to our new big chiller at some point and then tested for leaks etc. We have opted for super efficient pipe insulation and that is meant to be installed this coming week.
So everything is still going well and that's it for now. Thanks for reading and feel free to add any comments below
Cheers
Kevin Robinson,
Founder, Vibrant Forest Brewery