VIBRANT EXPANSION - WEEK 14 PROGRESS
Good morning! After a 3 week blog absence we return with the latest news on our efforts to get the brewery up and running at our new site in Hardley
After a couple weeks of steady progress last week saw some significant developments. The infrastructure has been laid and things are now all coming together to enable us to brew very soon. If all goes to plan then we could be brewing the first beer (is Pupa ok with you lot?!) in to our new 6000L tanks in about 1 weeks time. This is the aim but a lot of work is needed still before this can happen. Read on…
Our Glycol chiller is now ready for cooling action. It has 3 phase power, has been commissioned and our 2 new 6000L fermenters are now connected up to the fully insulated cooling pipework. Currently our 7 fermenters at Lymington are full of beer and as they become empty we will transport them across and plumb these in to the new cooling system. Avena is being packaged tomorrow so this will be the first tank to be available for transport. We are likely to pair up tanks so will wait for the next available tank before transporting to Hardley. We have 2 x 4000L fermenters to transport over and at the moment I am not fully certain we will do this job ourselves. I picked up the lifting gear this week to enable us to get the tanks in to horizontal position but they are mighty heavy to move around. We shall see.
We brewed our last ever beer at Lymington on Wednesday/Thursday and the following day we wasted no time and moved our mash tun, hopper and copper over to hardley using our trusty trailer. The mezzanine floor was dismantled in a single day and we plan to use bits of this at our new site when the time is right (and we have some money!) Taking the floor down also enables us to get our tall vessels out much easier. The copper seemed enormous in our unit in Lymington but it looks tiny now, especially compared to our new 8000L Hot Liquor Tank! Today we have a local welder in to start welding the necessary stainless steel pipework to get the brew house up and running again. To start brewing we need the mash tun, hopper, copper, new hot liquor tank and a fermenter to be all ready. The fermenters are the only vessels that are almost ready for action right now. Tomorrow we have some new electricians turning up to build the brewery control panels. This is a big and very expensive job and estimated to take 3 to 4 days of solid work. If it is delayed then brewing the first beer will be delayed so it is just a little important things go well….same goes for the welding
mash tun and copper arrive
mash tun, copper and hot liquor tank are in position
Our hopper now sits in the unit next to the brewery so when we mash in the dust will not be in the hygienic brewery room but in the dry malt store instead. A window has just been created between the 2 units so we can see what is going on in the brewery unit when we are mashing in. A nice touch I think as we can spy on the brewers as well!
Our hopper will sit next to the viewing window
Yesterday we closed our Lymington taproom and I would like to say a massive thanks to all those that supported us. We held some great events during our 5 years at Lymington and made some great new friends and people happy. The Friday night club members will hopefully join us for more fun and banter at our new taproom and of course we hope to have many new folk join us. Our new taproom opens on 1 June and we have yet to start building the new bar! However, the taproom build is starting tomorrow as we have found somebody local to help us out. We hope to have most of it completed by the end of this week and this gives us 1 week to put the finishing touches in to the taproom and make sure the beer dispense is working well. We plan to launch with 8 keg lines and 1 cask as well a bunch of cans in a lovely new fridge. We won't have everything ready in time for launch but we are confident we will be 90% there and pouring great beer. Keep an eye of the Taproom Facebook page for developments. To say I am excited by the new taproom would be an understatement! A lot of Vibrant fans seem to share my excitement luckily :-)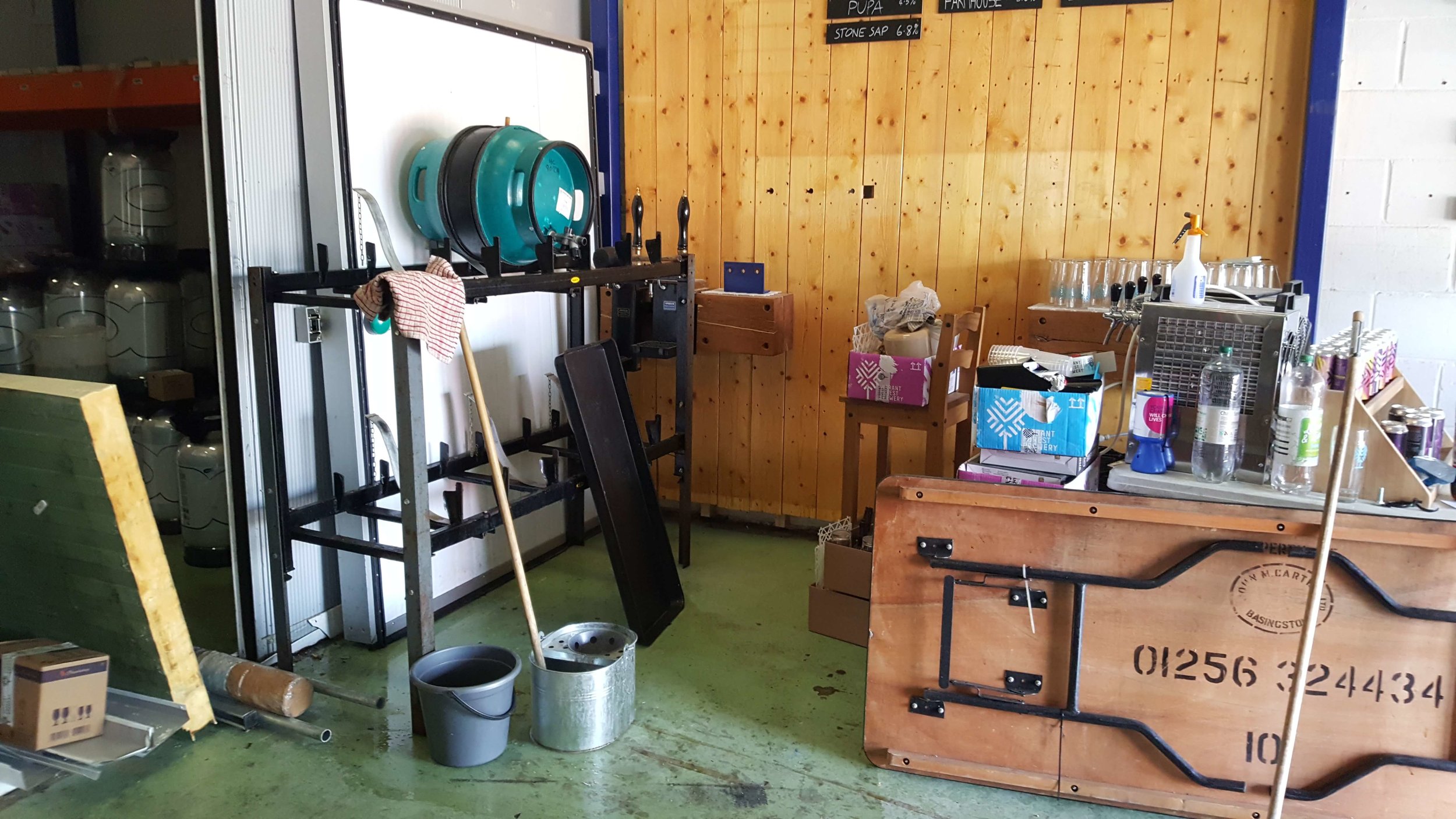 The remains of our taproom
A little bit of Vibrant branding is now starting to take shape in the taproom
A few from the Friday night club depart for the last time in Lymington
So, this coming week (starting today) is a big one. We will hopefully see the taproom bar and decor take a massive step forward, brewery control panels built and a while bunch of stainless steel welded together. After this everything else must be dull and boring right? I very much doubt that somehow….
No doubt I have missed some news but I think I have covered the major stuff. I'm off now and hope to see you next week with hopefully some news on the excellent progress we have made this week
Cheers
Kevin Robinson
Founder, Vibrant Forest Brewery