VIBRANT EXPANSION - WEEK 16 PROGRESS
Wow! Wow! Wow! Yesterday was simply epic! This week's news is no doubt based around the glorious opening of our new taproom…..
Yesterday was one of the best days ever for me. No question about it. The turn out and vibe for the opening of our new taproom was overwhelming! I want to say a massive thank you to all of you who came down and enjoyed our brews in the glorious Waterside sunshine. I would also like to thanks Brian our taproom manager and our two fantastic volunteers - Richard and Daryl, who worked so hard all day long. I could not have imagined so many jolly folk would turn up. When I ordered 15 tables and benches I assumed we would only really need them for major events as we already have a lots of tables and stools within the taproom. I was wrong it seems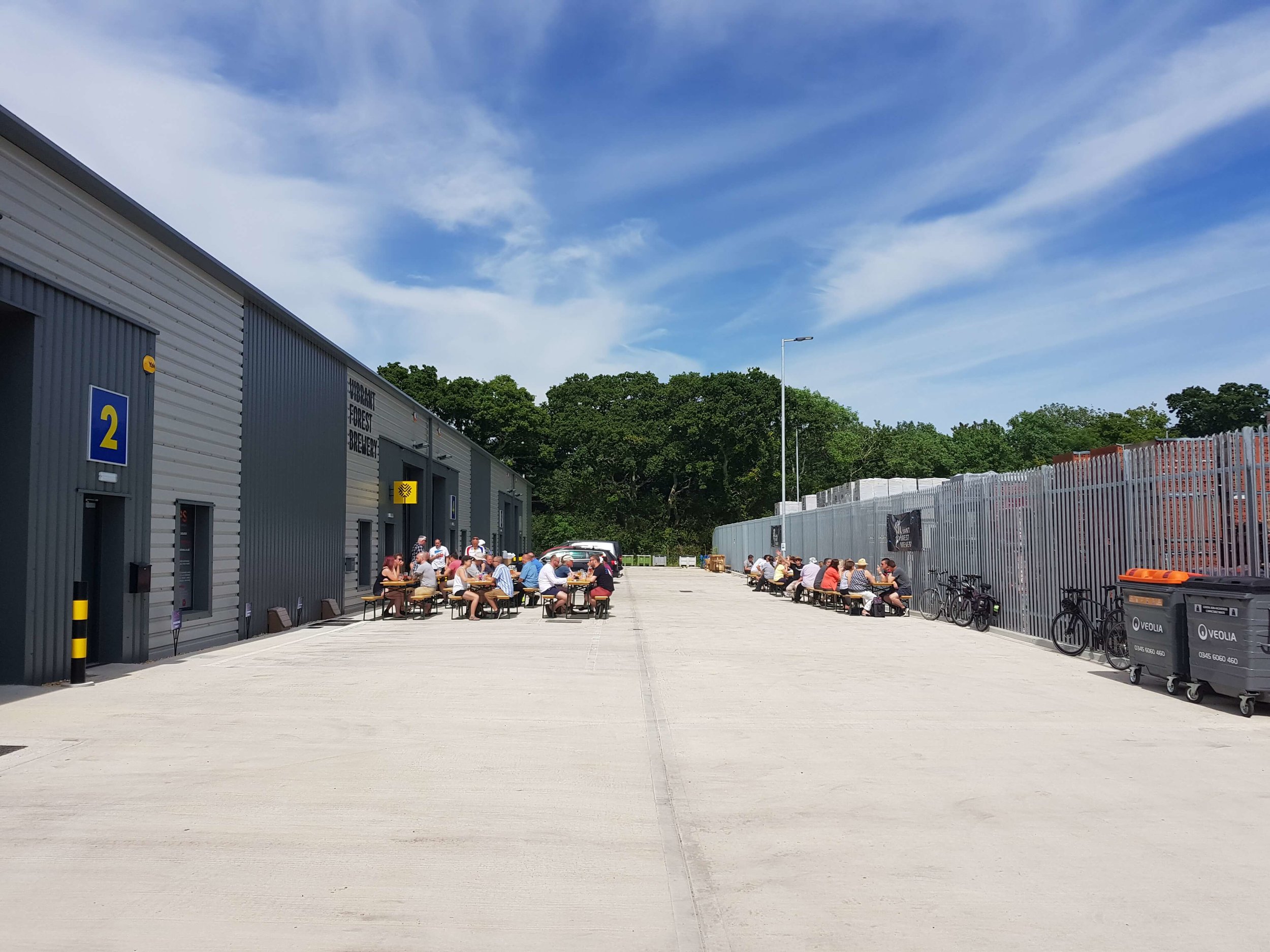 I was brewing Summerlands yesterday in to one of our new tanks and at about 12:30pm (30 minutes after we opened) I noticed a large handful of people sat outside supping on Vibrant beer. Cool - keen early folk I thought (David and Tom are you reading?!). Then, around 1:30pm when I was finishing up brewing I poked my head outside the brewery door and suddenly witnessed what I can only describe loosely as fantastic taproom busyness! Every bench outside was occupied by lovely keen customers and upon entering the taproom itself I witnessed more of the same. Happy people were queuing at the bar waiting to try our beer and congratulating the team on our lovely new space. This was simply epic and it felt just like one of our Brockenhurst beer festivals but at our own dedicated site.
Front right - Tom and David. Keen Vibrant followers….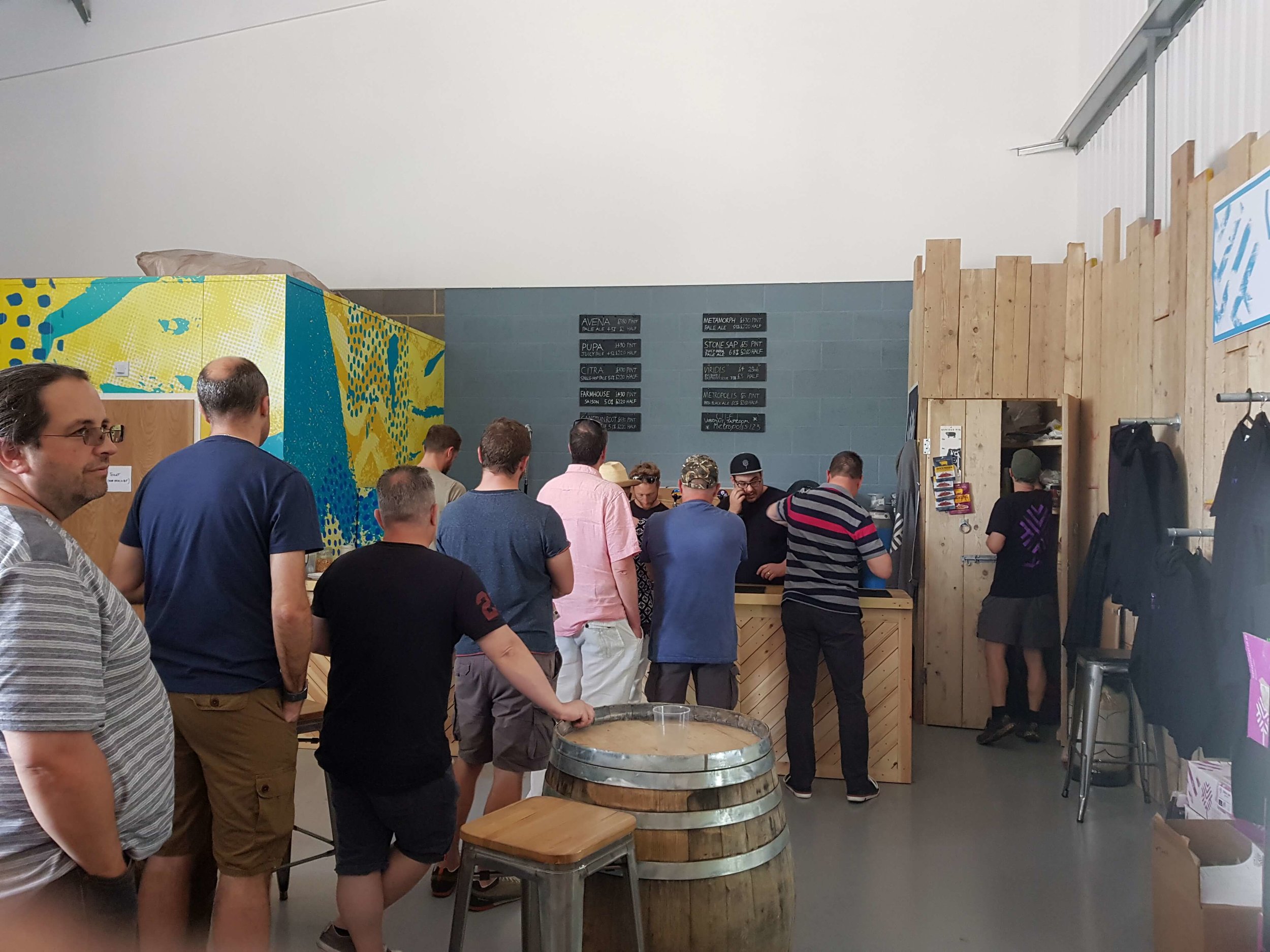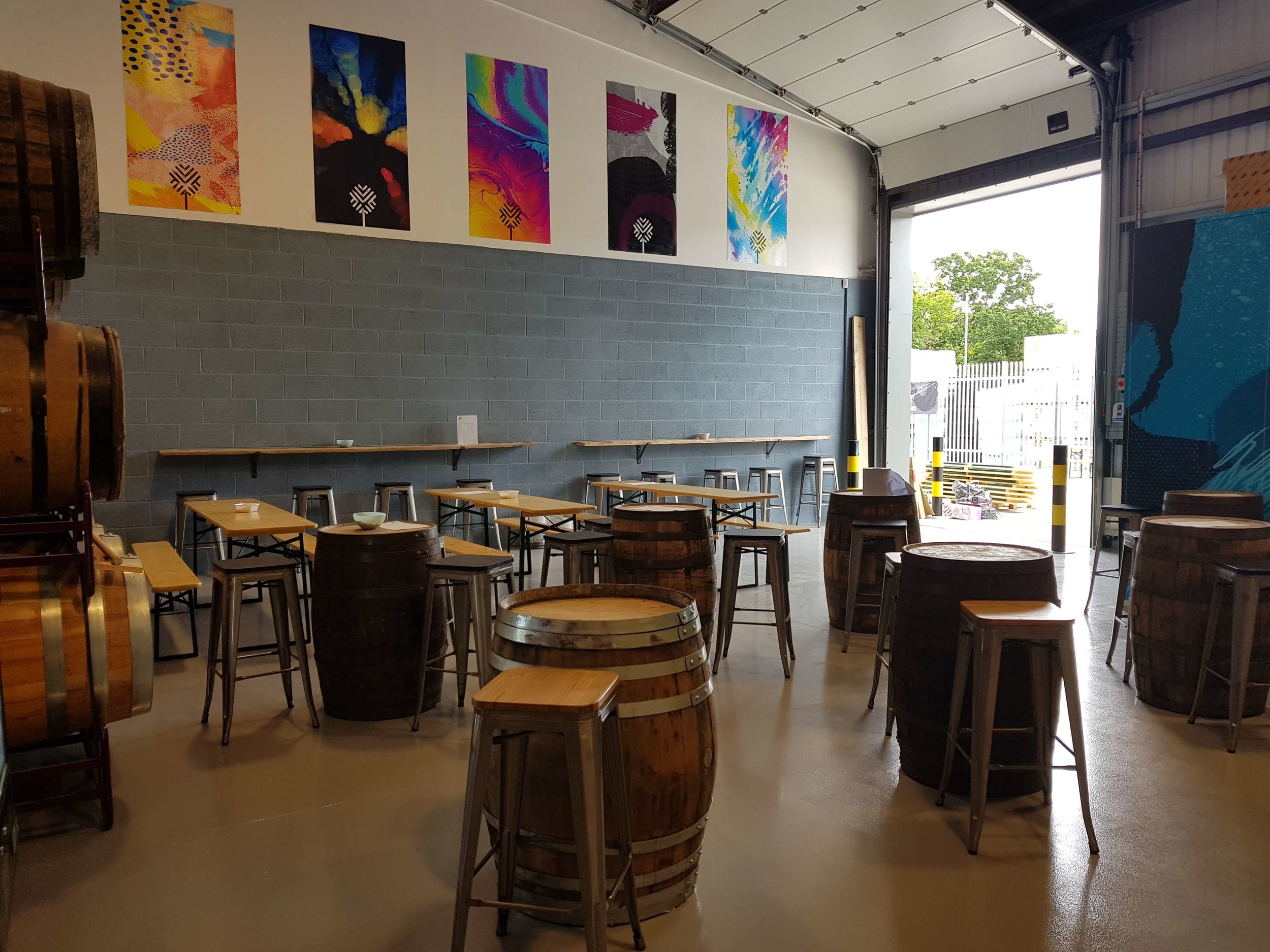 A few hours before opening
The beer was pouring really well on our new bar setup (far better than it ever did at our old site) and popular beers such as Pupa and Stonesap were rinsed! Our can fridge was pretty much demolished as well. Some of you I got to chat to and show you around and I can only apologise for not getting chance to catch up with everybody. It was a rather busy day for all and there will be plenty other opportunities no doubt. As I have said before, the taproom will evolve over time and we want to hold some decent events, hopefully starting with a beer festival in August. Keep an eye on our taproom Facebook page for all news and feel free to get in touch with any suggestions you have.
In terms of the brewery move progress, we have moved a couple more of our fermenters from Lymington to Hardley and we hope to move the remaining vessels tomorrow. It has to be tomorrow as the pipework guys are turning up Tuesday to plumb every remaining vessel in to the cooling system. Tomorrow will be another crazy busy day no doubt for the team. I did a triple brew of our old favourite Summerlands on Friday and Saturday so now our 2 new large fermenters are both full up (Pupa was last week). This means 12000L of beer will be coming soon…..
All the hours put in during the last week have been more than worth it and I hope you agree. That's it for now. #tired
Cheers!
Kevin Robinson
Founder, Vibrant Forest Brewery